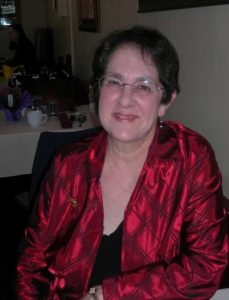 Elaine Rose (Verstein) Bloomfield, in her 76th year, of Framingham MA passed away suddenly Thursday, August 24th. She leaves those who will remember her for her great love and passion for people. She leaves her husband of 55 years, Gerald Bloomfield, her daughters Beth Perry and her husband David of Ashland, Elise Warecki and her husband Mark of Millville, four grandchildren, Garrett Perry, Charlotte Perry, El Warecki, and Gavin Warecki.
Elaine leaves her brother Howard Verstein, his wife Linda and their children and grandchildren. She leaves her sister-in-law and lifelong friend, Joyce (Bloomfield) Stankus, her husband Richard and their children and grandchildren. She is preceded in death by her parents Bernard and Bella (Sandman) Verstein. She has many cousins she leaves behind as well as special friends she enjoyed having regular lunches with as well.
Elaine was born in Worcester and graduated from Classical High School and Chamberlain Junior College in Boston. She worked for many years at Whittier Rehabilitation Hospital, New England Rehabilitation Hospital, and National Head Injury Foundation as a medical administrator.
Elaine will be deeply missed and remembered as a caring, loving, kind, patient, compassionate, thoughtful person. Her greatest passion was being at family gatherings which brought her great joy. In her early years she danced with Charlotte Klein Studios with a focus on ballet, which was always greatly recalled in many conversations as another great passion.
In lieu of flowers, memorial contributions may be made in her memory to the Framingham Food Pantry, 214 Concord Street, Framingham, MA, 01702.
Text taken from: https://www.dignitymemorial.com/obituaries/framingham-ma/elaine-bloomfield-11422540