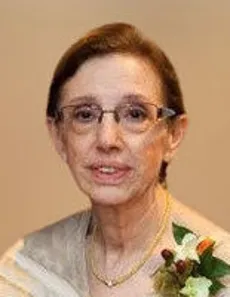 Nancy Starr Shulman died after a long illness on January 8, 2023. In her last moments her children, grandchildren, and sister were by her side.
She leaves behind her sons Andrew of Tennessee and Peter (and his wife Amanda) of Uxbridge as well as her three grandchildren Madeleine, Calvin, and Lucas. She also leaves her sister Marjorie and her husband Yusuf of Brooklyn, NY, sister-in-law Susan Starr of Worcester as well as her nieces and nephews who she thought the world of. She was predeceased by her husband Melvin in 1993 and brother Alan in 2009.
Born in 1947 to Edward and Beulah Starr in Worcester, Nancy lived there most of her life before retiring to Uxbridge to be closer to her family.
She loved crossword puzzles, scratch tickets, and talking to anyone who would listen. She always looked forward to making her "rounds" to get the latest gossip and share her famous baked pastries and matzo ball soup.
Nancy's family will gather for a private graveside service at B'nai Brith Cemetery in Worcester. Memorial Observance will be at the home of Susan Starr. Arrangements are under the care of Miles Funeral Home of Holden. In lieu of flowers, Memorial Contributions may be made a charity of the donor's choice.
image and text from https://www.telegram.com/obituaries/pneo0398944